Emmanuel College
Roberson Hall – Phase II | Franklin Springs, GA
size

144 beds / 43,800 sq.ft.
(2) three story buildings

unit layout

4 bedrom / 4 bathroom suites (single and double occupied rooms)

construction cost

$3,299,127 / $75/ft.

project delivery

Fall 2013

financing

Traditional, fixed-rate tax-exempt bonds through a refinancing program.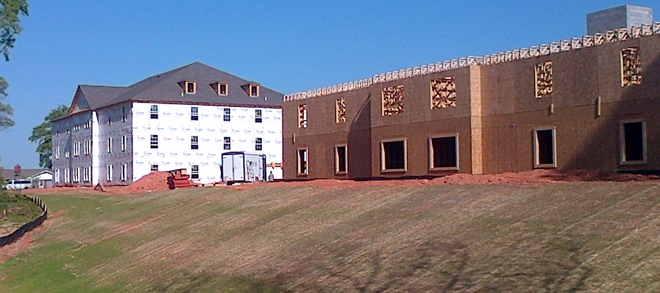 Project Description
Phase II of Roberson Hall provided Carroll Campus Development with unique challenges to bring the project to fruition. First, Emmanuel College needed to refinance their campus debt in order for the project to move forward. Like many private colleges and universities, Emmanuel's original financing was provided through bank bonds. Depending upon economic and regulatory conditions; some banks after purchasing these bonds will not allow the client access to additional capital which can be problematic if the campus is growing like Emmanuel College is experiencing. Carroll Campus Development was able to work with Emmanuel College and a national leader in investment banking to provide the necessary capital for refinancing and additional capital for the new housing development.

Secondly, due to the time needed for the financing process; Emmanuel College needed a design and construction provider who could execute quickly to fulfill the student housing needs. Carroll Campus Development utilized the same building design as phase I with our proven purchasing power to gain access to a sub-contracting base capable of meeting the budget and timing hurdles. The 144 bed project did not commence until December 2012 and will be completed fall of 2013.
Features
All Brick w/ Precast Stone
Private Bedrooms
Private Bathrooms
Large Living Room
Kitchen w/ Refrigerator
Laundry Room
Granite Countertops
Tile Flooring
Recessed Panel Cabinets
Double Pane, Double Hung Windows
Elevator in each tower
Sound Proofing